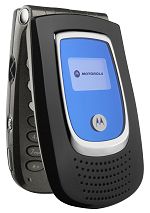 Designwise, it comes in a very smart clamshell package - don't forget that Motorola pioneered the small clamshell with the StarTac range a few years back - and the MPx200 falls into roughly the same size category - the same size that the StarTac pioneered. With both an internal and small external screen, easy controls and stylish design it should be a real head-turner.
On the minus side, you're either going to love or hate the Windows Smartphone software. Previous Smartphone models (and they've been pretty sparse) have suffered from short battery life because of the power needs of the operating system. Microsoft have steadily improved this, and the MPx200 boasts a talktime of 3.5 to 5 hours, which is better than earlier models.
Expandability is impressive too.. the MPx200 takes SD memory cards and can store up to a huge 1Gb of data with the right expansion cards, which should be enough for just about everything you could ever need.
Motorola MPx200 at a glance

Available:

Now

Network:

Tri-band GSM

Data:

GPRS

Screen:

176x220 pixels, 65k colours

Camera:

No

Size:

Medium clamshell
90x48x27mm / 120 grams

Bluetooth:

No

Infra-red:

Yes

Polyphonic:

Yes

Java:

No

Battery life:

4 hours talk / 10 days standby

OS:

Windows Smartphone 2002